See on Scoop.it – On My Front Porch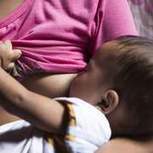 A Government-funded scheme will see new mothers offered shopping vouchers in an attempt to make them breastfeed.
Bren's insight:
Bren's insight:
As much as I agree with breastfeeding babies, but seriously I don't see why woman should be rewarded for doing it. I thought this Country had no money yet we can find money for projects like this.. whilst we evict people from their homes because they have a spare bedroom.
There are women out there who would love to breastfeed their babies but can't due to various reasons.. either they babies wouldn't take from the breast or because they had problems that prevented them being breastfed.
Those women won't be rewarded.. which in my view could play heavily on a young mum's mind, especially if she wanted to breastfeed and she couldn't.. it could make her feel inadequate as a mother.
Seriously I can't believe this Government at times..
See on news.sky.com