See on Scoop.it – On My Front Porch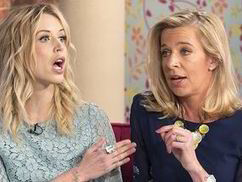 SHE'S already managed to wind up both Holly Willoughby and Phillip Schofield during her regular appearances on This Morning, but it looks as though even the famous mums are getting fed up of Katie Hopkins and her outspoken opinion.
Bren's insight:
Having read Katie Hopkins timeline and how she persecutes the family of a missing child.. I think Peaches Geldof summed it up correctly when she labelled Hopkins a rent-a-gob for the Sun.
Now I don't buy newspapers online.. and I definitely wouldn't even consider paying a penny for a red top that has Hopkins in it as a columist.
How that Hopkins woman thinks she is the bees knees I don't know.. but her exploits with another woman's husband make her as my nan would say … all fur coat and no knickers type of broad.
See on www.express.co.uk
If you can stomach it.. here is the full clip with Peaches Geldof and Katie Hopkins.