See on Scoop.it – On My Front Porch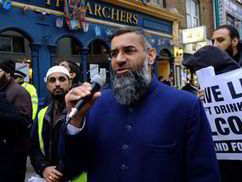 DOZENS of Muslim protesters walked with one of Britain's most controversial hate preachers to demand restaurants and shops in one of London's most popular areas stop selling alcohol.
Bren's insight:
If this story is true.. then it is appalling that this march was even allowed to go ahead..  If I walked up and down my street and said people living in odd number houses would be flogged if they did this or that.. I would be arrested for threatening behaviour..  wouldn't I?   This is not about being anti-muslim or anything.. this is about the law being broken.. with threats to harm people.. which the last time I looked was illegal in this country..
I would not be allowed to act like this.. and neither should any other religion..
And it seems to me. if this story is true,  as if the Police are pandering to groups like this if they don't stop such rallies taking place, especially if they think police intervention would cause unrest.
See on www.express.co.uk