See on Scoop.it – On My Front Porch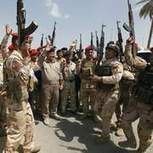 The Iraqi Prime Minister claims the Islamists are being driven out as President Obama admits the army's collapse is "a problem".
Bren's insight:
Sorry I have got to have a rant here… what did we expect?  All things in the garden to be rosy?  We went into Iraq without a game plan and when we ousted Saddam we left a power vacuum.  Now that all the troops of pulled out… they are going to fight amongst themselves who gets power.
Did we really think we could enforce democracy onto people, who don't have a clue of how to handle it?  It has taken civil wars, conflicts and god knows what else until we learnt to have democracy via the ballot box.  These countries, like Egypt and Libya have that journey to make until they like us … put down the gun and elect via the ballot box.  Their culture is different to ours, and they are on a learning curve, but our pig-headed warmongering politicians didn't think of the end game and what could happen… did they?  Blair jumped on Bushes bandwagon and in a way we have disestablished that region.  Afghanistan will go the way of Iraq once all the troops have gone.
See on news.sky.com