Since the industrial revolution we, the people, have been poisoning this planet.. we have been putting toxins and pollutants into this earth and boy are we now facing the consequences of our previous actions.
Never in my lifetime, have I witnessed hurricanes like Harvey, Irma, Jose and now Katia forming one after the other.  Bringing with them biblical flooding and great loss of life and destruction.
Never have I seen hurricanes lining up one after the after ready to attack countries one after another in its path. With loss of life and destruction that we've seen over the last week or so.
The world witnessed Houston under water with Hurricane Harvey, seen destruction on a phenomenal level with loss of life and homes blown to oblivion.  People are losing everything.  People who had very little to begin with have nothing at all now.  They are alone, desperate and in need of help.   The Caribbean Islands are counting the dead as Irma heads for Florida.  With people anchoring down and hoping for the best.
And it isn't just hurricanes, with wind and rain that are threatening our planet.  Wildfires are also raging in parts of this world not just in the US but in Europe as well. In the US the La Tuna fire near Burbank in California has burnt nearly 7,200 acres and is the largest fire every recorded in Los Angeles.  Wildfires are burning in the Columbia River Gorge above the Bonneville Dam in Oregon.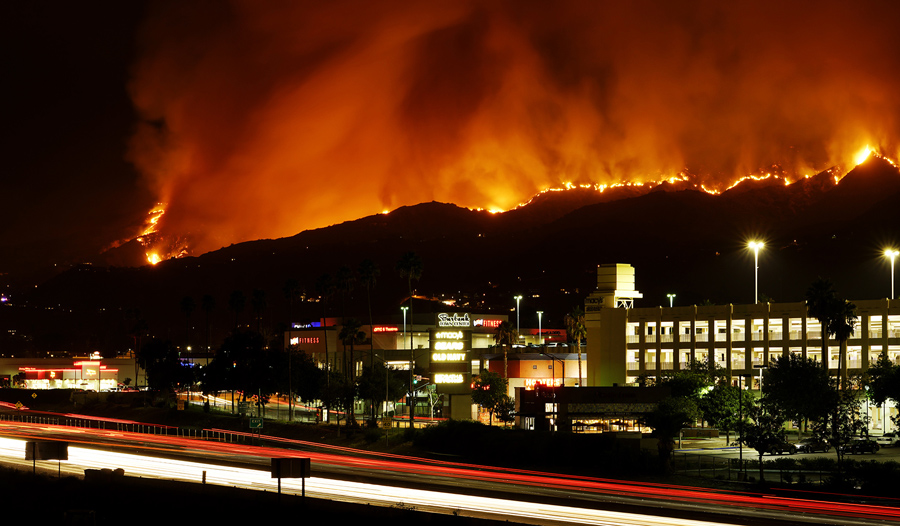 With droughts, soaring temperatures, our planet is fighting back and when it comes to taking advice from an arrogant, misogynistic, President like Trump and a brilliant scientist like Stephen Hawking I know who I am going to believe… and it ain't Trump.
Stephen Hawking has since commented that the decision could be catastrophic, and lead to permanent damage to the climate. "We are close to the tipping point where global warming becomes irreversible," he told the BBC. "Trump's action could push the Earth over the brink, to become like Venus, with a temperature of two hundred and fifty degrees, and raining sulphuric acid." He added that Trump's decision would cause "avoidable environmental damage to our beautiful planet, endangering the natural world, for us and our children".
It was on my birthday that Trump stood in the Rose Garden of the White House in Washington and said:
"In order to fulfill my solemn duty to protect America and its citizens, the United States will withdraw from the Paris climate accord."
An agreement to tackle Climate Change head on..  The Paris Agreement with its essential element being:
The Paris Agreement builds upon the Convention and – for the first time – brings all nations into a common cause to undertake ambitious efforts to combat climate change and adapt to its effects, with enhanced support to assist developing countries to do so. As such, it charts a new course in the global climate effort.

The Paris Agreement's central aim is to strengthen the global response to the threat of climate change by keeping a global temperature rise this century well below 2 degrees Celsius above pre-industrial levels and to pursue efforts to limit the temperature increase even further to 1.5 degrees Celsius. Additionally, the agreement aims to strengthen the ability of countries to deal with the impacts of climate change. To reach these ambitious goals, appropriate financial flows, a new technology framework and an enhanced capacity building framework will be put in place, thus supporting action by developing countries and the most vulnerable countries, in line with their own national objectives. The Agreement also provides for enhanced transparency of action and support through a more robust transparency framework.
The Paris Agreement is an acknowledgement of countries that climate change is happening.  An acceptance that we need to act now before it is too late.  Climate change just doesn't affect one country or one continent, it affects us all.  With melting ice-caps and rising sea levels, we are all at risk.
When the American President put two fingers up to climate change, his actions just didn't affect just Americans, it affected the rest of the world.  He doesn't want to believe in Climate Change or does he, and by him reneging on the Paris Agreement was just another swipe at Obama.  This President seems obsessed with Obama.. and wants to over-turn everything that Obama did.  So far he has accomplished this by acting like a spiteful and spoilt little kid:
Sept. 5: Trump rescinds the Deferred Action for Childhood Arrivals.
Aug. 29: Trump reversed a rule requiring large companies to report worker pay by race and gender in order to decrease the wage gap through greater pay transparency. (Chicago Tribune)
Aug. 28: Trump reversed an order banning the transfer of some surplus military equipment to police departments.
Aug. 25: Trump signed an order banning transgender troops to serve in the US military, reversing Obama-era reforms.
Aug. 15: Trump rescinded a flood-risk rule in response to climate change. The rule was intended to insure safer placement of roads, bridges and other infrastructure out of new areas prone to flooding because of sea level rise and increased precipitation. Trump reversed the rule to speed up the approval process for projects.
July 3: The Trump administration contested a Obama administration rule qualifying more people to get overtime pay by doubling the minimum salary a worker must make to qualify for a management exemption to $47,000. (Los Angeles Times)
June 16: Trump outlined a hard-line policy on Cuba, in direct opposition to Obama's efforts to foster friendlier relations with the communist government of President Raul Castro. (Washington Post)
June 1: Trump 'quits' the Paris Climate Treaty, adopted by Obama in an executive order last year. (New York Times)
May 14: Senate voted to repeal Obama-era regulation that restricted drug-testing for job seekers receiving unemployment benefits. (Politico)
April 28: Trump signed an executive order aimed at expanding offshore oil and gas drilling in the Arctic, Atlantic, and possibly Pacific Ocean, scrapping another facet of Obama's environmental legacy. (Washington Post)
April 27: Trump directed the Interior Department to reconsider safety regulations for offshore drilling put in place after the 2010 BP oil spill in the Gulf of Mexico. The executive order was intended to roll back Obama administration attempts to ban drilling off the southeastern Atlantic and Alaskan coasts. (New York Times)
April 26: Trump signed an executive order giving the Interior Department the power to whittle down or abolish some national monuments, which would effectively reverse Obama's creation and expansion of national monuments during his term of office.(NPR)
April 13: Trump revokes an Obama administration rule protecting funding for Planned Parenthood and other organizations that provide legal abortions. (NPR)
March 28: Trump rescinded Obama's clean energy plans, which put a cap on greenhouse gas emissions by power plants. (New York Times)
March 27: Trump rescinded Obama's 2014 Fair Pay and Safe Workplaces meant to apply 14 labor and civil rights laws to federal contractors, who now will no longer have to provide documentation of their workplace practices. (Forbes)
March 27: Trump signed bills overturning two Obama-era education regulations, including required programs training new teachers and the Every Student Succeeds Act intended to hold schools accountable for student performance.(Washington Post)
Feb. 28: Trump rolled back Obama's Clean Water Rule, intended to increase the scope of waterways regulated for pollutants.(Washington Post)
Feb. 23: The Trump administration withdrew protection for transgender students to use the bathrooms and facilities corresponding to their gender identity. (CNN)
 Jan. 23: Trump withdrew from the trans-pacific Partnership, a trade deal between the US and countries on the Pacific Rim. (Washington Post)
Jan. 20: Trump signed his first executive order seeking prompt repeal of the Affordable Care Act – which to date has not happened. (New York Times)
Maybe Obama didn't get it right all the time… but he sure as hell knew that this planet was on a downward spiral due to Climate Change and something needed to be done, before it was too late.
Thanks Trump you just 'f**ked' us all over…  Americans and non-Americans.