The Royal Wedding
Just like millions of others I tuned into the Royal Wedding… I just love the pomp and pageantry that goes with a royal wedding….   Up at the crack of dawn, was I, shopping done, all chores completed before I sat on the sofa glued to the TV to watch the wedding of the year.
This wedding was special… it was two cultures coming together and history being made.  Never before have we seen a Prince marry a divorced American Actress. Two cultures bought together by two people very much in love.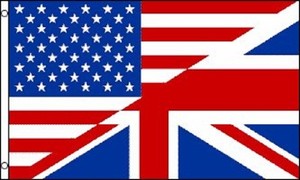 This flag symbolises this moment in history.. and it was made even better by two nations coming together to celebrate and rejoice in two people being in love and declaring their undivided love in the presence of not just God but with the presence of our Queen, Queen Elizabeth II, who looked stunning.
History was made.  Albeit with Press Intrusion prior to the actual wedding.  With the Press yet again baying for blood that left Meghan's father being taken ill and having to have surgery.. and of course the letter from her step-brother to Prince Harry slagging Meghan off and warning him not to marry her.
Through all of these upsets, which would have put any bride into a spin and meltdown, prior to their wedding, Meghan Markle, who must have been upset about these stories, showed the world that she had dignity and class.
Unfortunately some brides, don't have a father, they don't have a man to walk them down the aisle, yet Meghan showed the world that you can reach out to your future husband's father for help.  She showed us that you can walk down an aisle on your own and you can be given away by the groom's father.
I am not a lover of Prince Charles, but there is a connection between him and Meghan, one I have not seen as much with the Duchess of Cambridge..  it was as if Prince Charles was giving away the daughter he never had.  He looked proud and ecstatic.  You could see how proud he was to greet her half way down the aisle and how happy she was to be given away by our future King.
History was truly made on Saturday, and boy did I love watching it.  The ceremony was diverse and included Meghan's culture.  Her mother was welcomed into the Royal Family and the bride who is American showed us that she is now proud to be American/British.
Meghan Markle is an American, yet Meghan Markle, in her dress design showed that she is fit for royalty by including something that is close to our Queen's heart… the Commonwealth.  Meghan Markle had the 53 emblems of the member states of the Commonwealth embroidered in her veil.  Meghan Markle didn't have to do that.. yet she showed the world that she is a Princess … another Diana.
And as for her dress… it was a dress to die for… it was classy, divine, elegant, paired down, and she looked absolutely gorgeous.
On Saturday two cultures came together to wish a couple, who are so much in love, every happiness in the world.
Yet, with sadness, there are some that want to pick holes in everything.  Primarily the American Pastor who gave a sermon, like American Pastors do.  With joy, gusto, and a sermon that represented who Meghan is.. a mixed race woman, who is proud to be mixed-race and proud of her heritage.
Many are saying that it went on too long… and the Queen didn't approve.  Seriously do you honestly think the Queen didn't know what he was going to preach!  Every word of every sermon and reading would have been given the official nod by the Queen.  And to see young Royals sniggering… just showed lack of respect, not for just their own relative but for the bride as well.
The Royal Wedding has given us a new future to look forward to and for those that say that Meghan is playing the feminist card, by giving her own speech it was not being feminist, it was being American and an American tradition for brides.  Meghan Markle, now the Duchess of Sussex, has shown us that two cultures can live together and unite.  She has showed us that two people that are in love, respect each other's cultures.  She has showed us that she is prepared to embrace what is held dear to the Royal Family.  She has showed us a way forward.
Here is to the newly married couple… health, wealth and happiness.
Karen Gibson and @TheKingdomChoir sing "Stand by me" from the West End of the Chapel #RoyalWedding https://t.co/4V1avJlY3K

—
Kensington Palace (@KensingtonRoyal) May 19, 2018